Shopping Cart
Your Cart is Empty
There was an error with PayPal
Click here to try again
Thank you for your business!
You should be receiving an order confirmation from Paypal shortly.
Exit Shopping Cart
Joanne Gilhooly - Psychotherapist & Counsellor - Dublin City
B.A. (Hons) Counselling & Psychotherapy, Dip. Gestalt, MIACP
Dublin Counselling and Psychotherapy Blog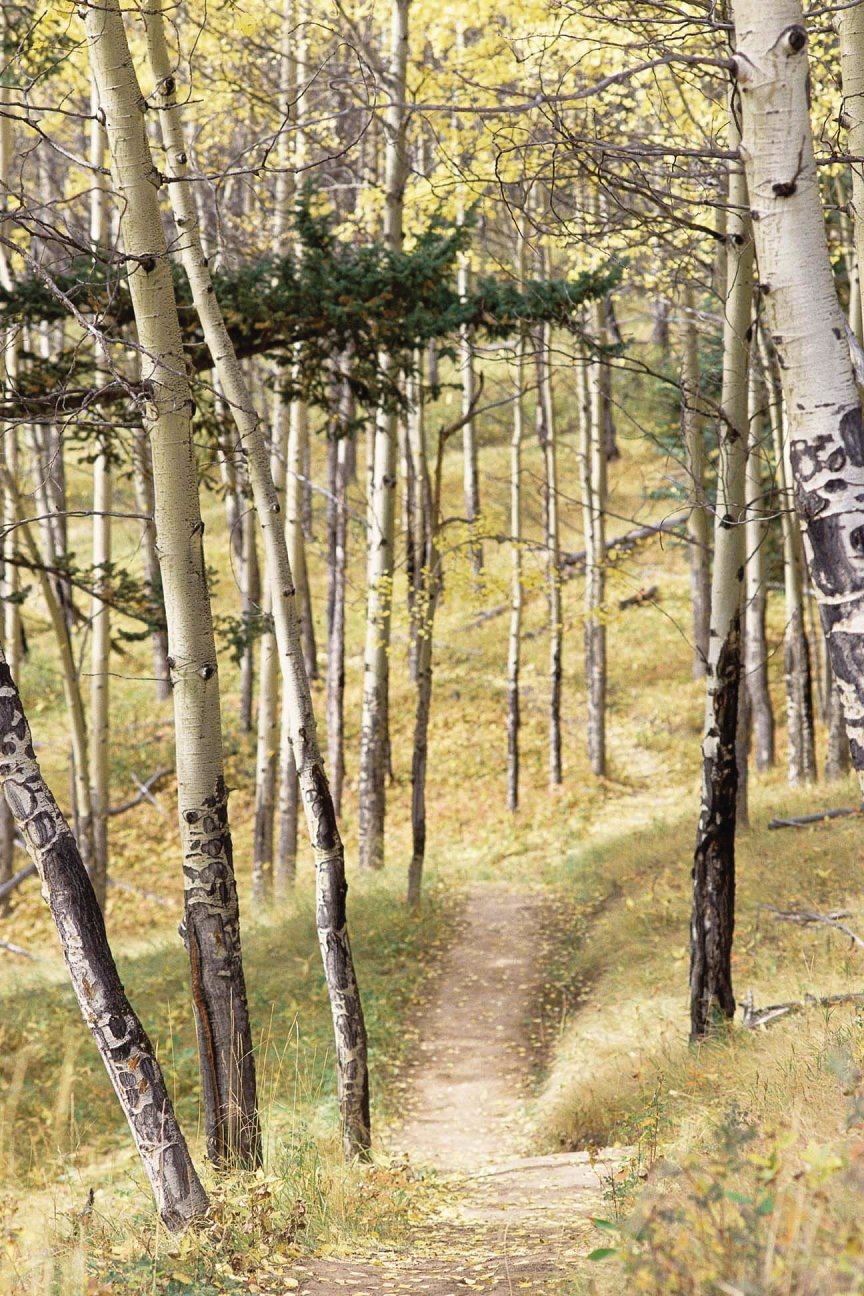 There are two main types of humanistic psychotherapies that I draw on and they are Gestalt therapy and Person-centred psychotherapy. The main tenet of these therapies is that the counselling or psychotherapy client knows best what is right for them. My job is help you get in touch with your 'inner expert'.
They are respectful therapies in that they take quite an egalitarian approach, believing that the best way to support the client is to be a fellow traveller, a fellow human being (as though that can be avoided!),and they are less about wearing the 'professional hat' than they are about'being there', and accompanying another person while they navigate their way through their personal journey.
It might sound a bit like something you could get from a good friend (and you may well get solid support from a friend), but there are differences. The main one that comes to mind is that the psychotherapist who is trained in a humanistic way is skilled in listening at a deep level. In practice that means that I am aware of communication on different levels in the counselling room. While I am listening to the content of what you are saying, I am also listening for patterns, for what is not said, and for any shifts or changes that seem to occur in you as you tell me about what is going on for you.
These patterns and shifts can help me to help you get in touch with what may be happening for you at a deeper level. Very often when people come for counselling or psychotherapy they are very much in contact with what is happening in the 'head' (their thinking) but less in contact with what is happening at a deeper 'feeling' level. This is so common, and is very similar to my own experience when I started psychotherapy during my training. It took quite a while for me to get the hang of listening to my body and to my feelings and it is still a work in progress, as I suspect it will remain.
Feelings can be scary to get in touch with mainly because they are unknown territory, and we may not yet know how to regulate them. That is, we have not yet had enough experience with feelings to know that they cannot harm us – quite the opposite, they can take us on a journey into ourselves and can be very instrumental in helping us to find our voice and put words on our unique experience. Just like getting to know anything new, it takes time to become accustomed to our feelings as they arise, for them to become less the scary monster and more a great source of information about ourselves. This is a natural process that occurs over time with support from an experienced listener.
Why we didn't get this experience with our feelings may or may not become apparent, but either way, we can do the work of getting to know  our feelings and learning to voice them in a way that feels ok to us.  That can help us to communicate with others more clearly and more authentically about what we feel and what we want. The effect of this is that we may feel more satisfied and engaged in life as we speak out, get involved, and more confidently take our place in our lives and our relationships.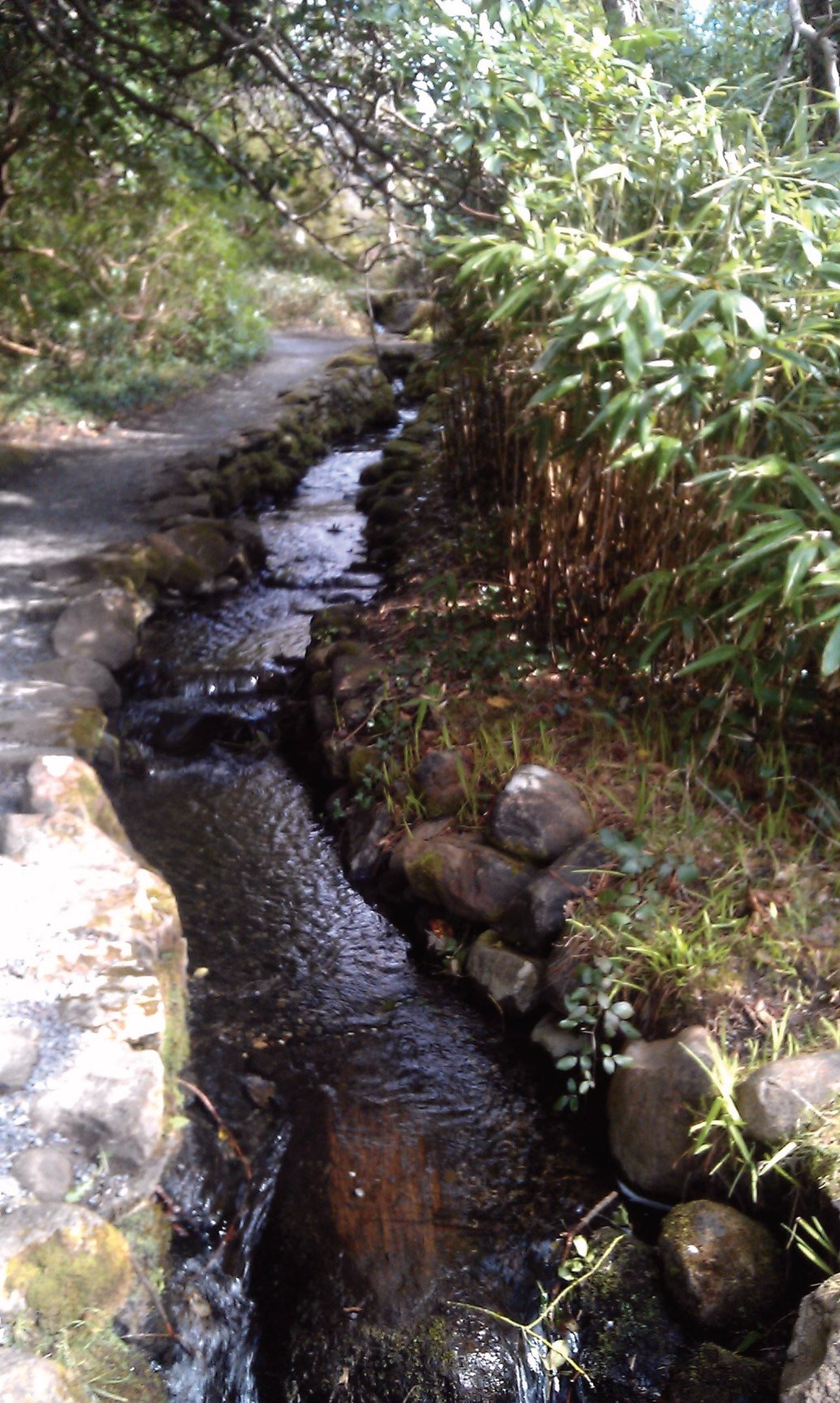 "The cool water of the running stream may be scooped up with open, overflowing palms. It cannot be grasped up to the mouth with clenching fists, no matter what thirst motivates our desperate grab"
~ Sheldon Kopp, If You Meet the Buddha on the Road Kill Him!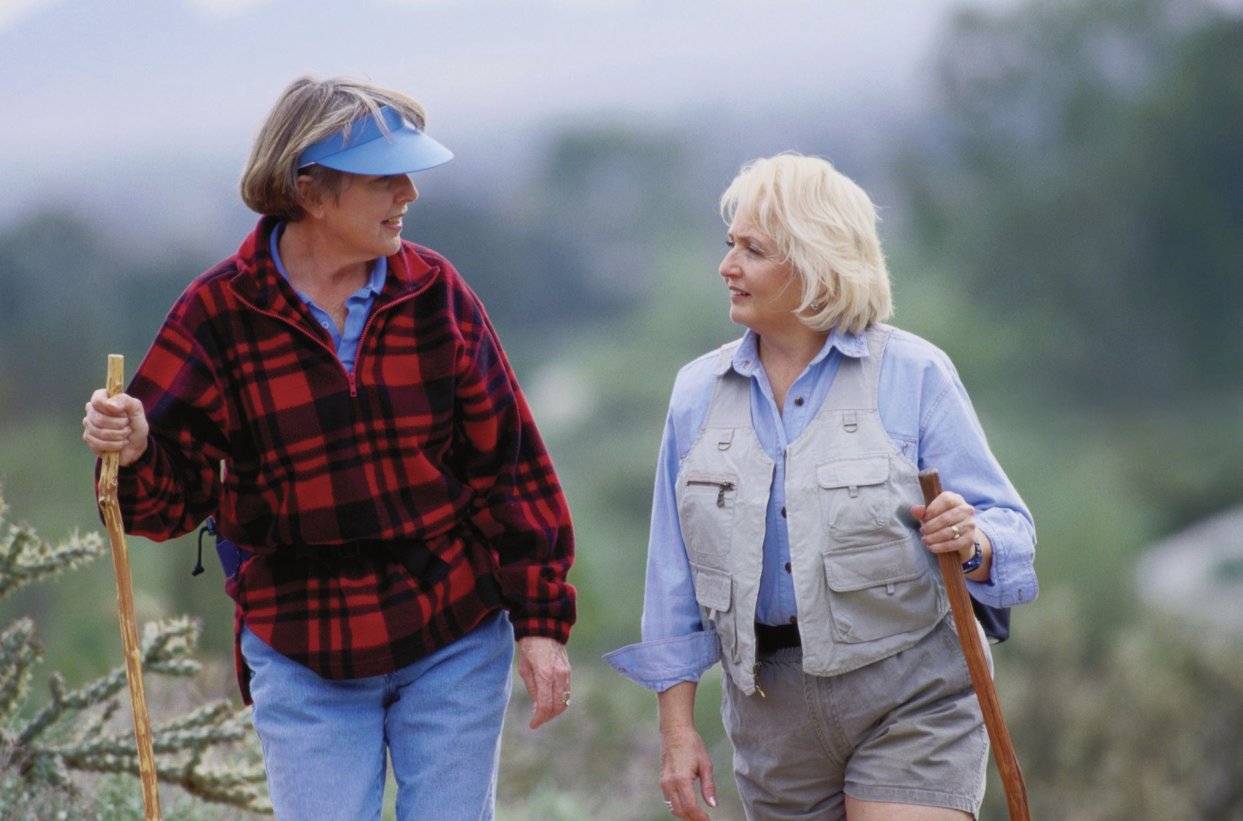 "The meeting of two personalities is like the contact of two chemical substances: if there is any reaction, both are transformed."
~ C.G. Jung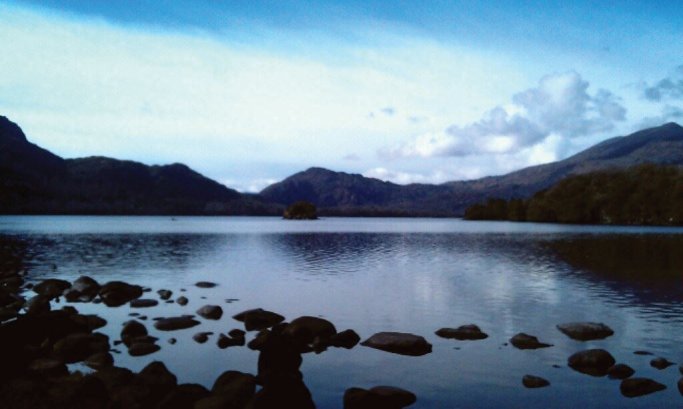 Counselling and psychotherapy can help you to gain a deeper understanding of what is happening for you, how you are living, and what may be underlying difficulties that you are experiencing. Through exploration and reflection we can work together to deepen your self-knowledge, to empower you to make new choices, and to further develop your ability to tolerate and cope with life's challenges. Much of what supports change occurs in the therapy hour.
And much of it doesn't.
What we use as an adjunct to psychotherapy, how we support ourselves outside the therapy hour is at least as important. How we care for ourselves between sessions, how we nourish ourselves and challenge ourselves is another key to supporting our process of self-discovery. 
Whether or not you are seeing a counsellor or psychotherapist, your mind and body need attention and support to function well.
So, how do you care for yourself? Do you have somewhere you love to go? Somewhere you feel connected and in tune with yourself and your environment? Somewhere that helps you to hear, and distance yourself from, your thoughts? Or maybe it is something you do. Maybe it is sport, art, writing, gardening, hillwalking, meditation, tai chi, mindfulness practice....or something else.
Do you make enough time in your life for something that nurtures you? And if not, could you think about what might be a nurturing practice for you and decide to give it a try. It doesn't have to be perfect, it doesn't have to be a formal practice, it doesn't have to be something out of a wellness manual, just something that nurtures and relaxes, or envigorates, you, without harming you.
And remember, it takes time to find what works. Very few people stumble upon what works for them as a self-care practice first time round. So be patient with yourself, try different things, don't get too caught up in right or wrong, experiment, and enjoy...
A few more words of wisdom from the guys painting the road on Clarendon Street...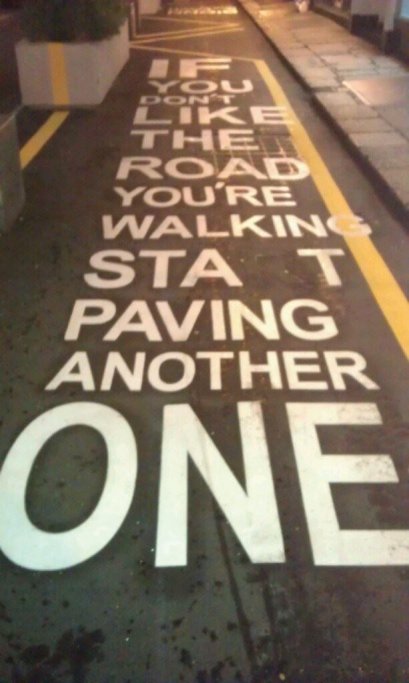 When changes are needed it might be helpful to remember that every moment is a new opportunity to start making them happen.
So, maybe take a moment to think about how you would like to use the next one.
What would you really like to make happen in your life, and what one step can take toward it today?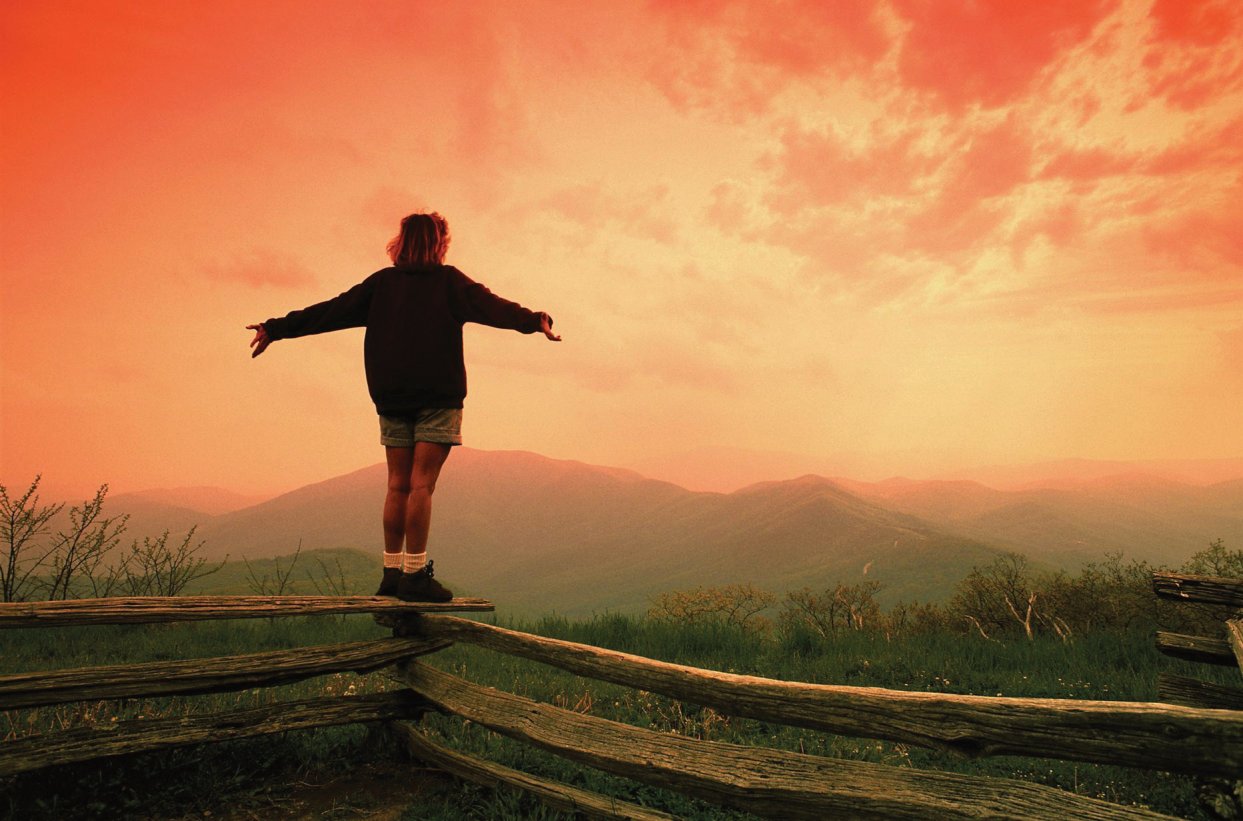 Got a voice inside you that tells you are never good enough? A few words for what we call the 'inner critic'...
"It is not the critic who counts; not the man who points out how the strong man stumbles, or where the doer of deeds could have done them better.
The credit belongs to the man who is actually in the arena, whose face is marred by dust and sweat and blood; who strives valiantly; who errs, who comes short again and again, because there is no effort without error and shortcoming;
but who does actually strive to do the deeds; who knows great enthusiasms, the great devotions; who spends himself in a worthy cause; who at the best knows in the end the triumph of high achievement, and who at the worst, if he fails, at least fails while daring greatly..."
~ From Theodore Roosevelt's Sorbonne Speech.
/